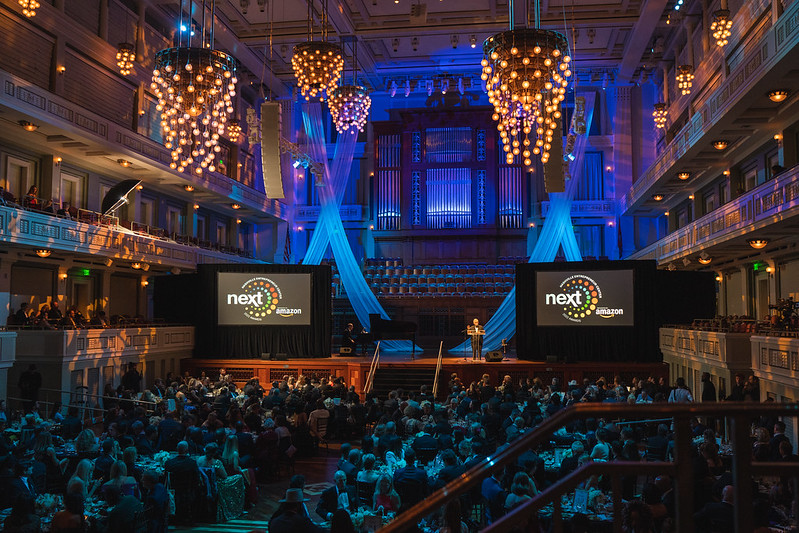 It's been a busy fall for the Cone Center. Throughout all of our fall events, we've kept an eye on our alumni successes…here's a brief update on the highlights!
Seven Alumni Nominated at the 2022 NEXT Awards, hosted by the Nashville Entrepreneur Center
The annual NEXT awards honor successful Nashville entrepreneurs by industry. This year, seven Belmont alumni were nominated:
Luke McElroy '09, founder of Orange Thread Live Events, Channing Moreland '16 and Makenzie Stokel '16, founders of EVA, Trevor Hinesley '12, co-founder and CTO of Soundstripe, Harry Allen '10, founder of Studio Bank,  Sam Walker '14, co-founder of Walker Brothers, Ryan Reisdorf '19, founder of Placemat. 
Trevor Hinesley '12 took home the award in the Music, Sports, and Entertainment category.
Jimmy and Megan Feeman '15 make Forbes 30 Under 30
Two of our entrepreneurial alumni, Jimmy and Megan Feeman '15, made the 2023 Forbes 30 Under 30 in Food & Drink. Their business, NoBaked Cookie Dough, has grown rapidly after their first pop-up on Belmont's campus. Now, they have two shops in Nashville and are in hundreds of retail locations in the U.S. Check out their full story in Season 2 of the Center's Podcast What if….
WaterStep announces new office in Kenya
Mark Hogg '98 founded WaterStep—a social enterprise providing access to clean water to people around the world. They recently announced the opening of a new field office in Bungoma, Kenya. We also featured Mark on our Season 2 Center podcast!
These highlights are just a small sampling of the successes achieved by our alumni this fall. We can't wait to see what's next for all of them!